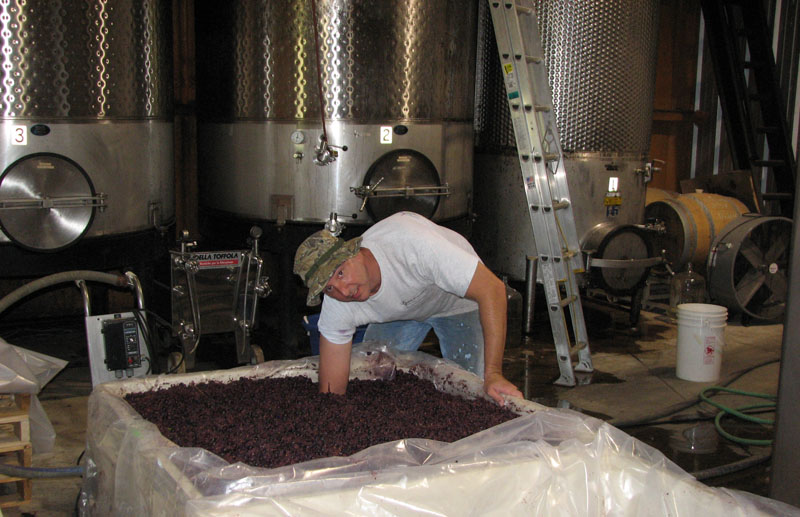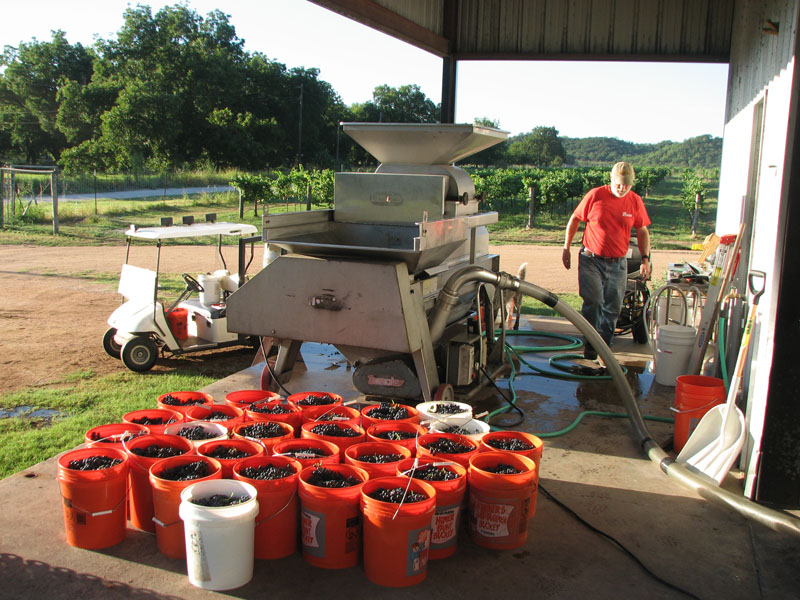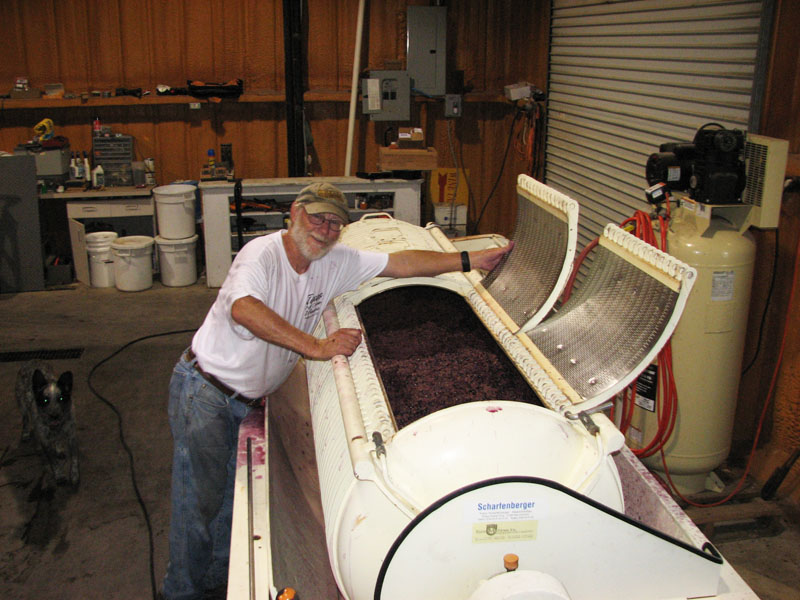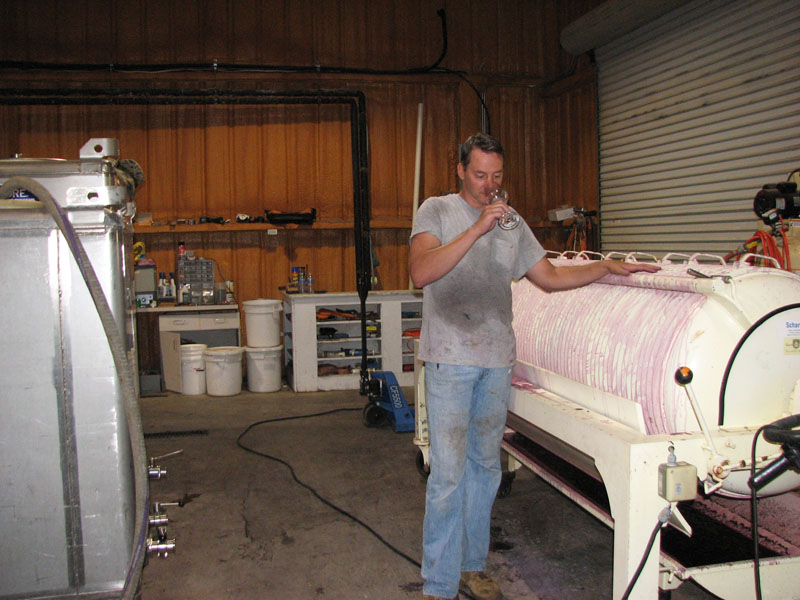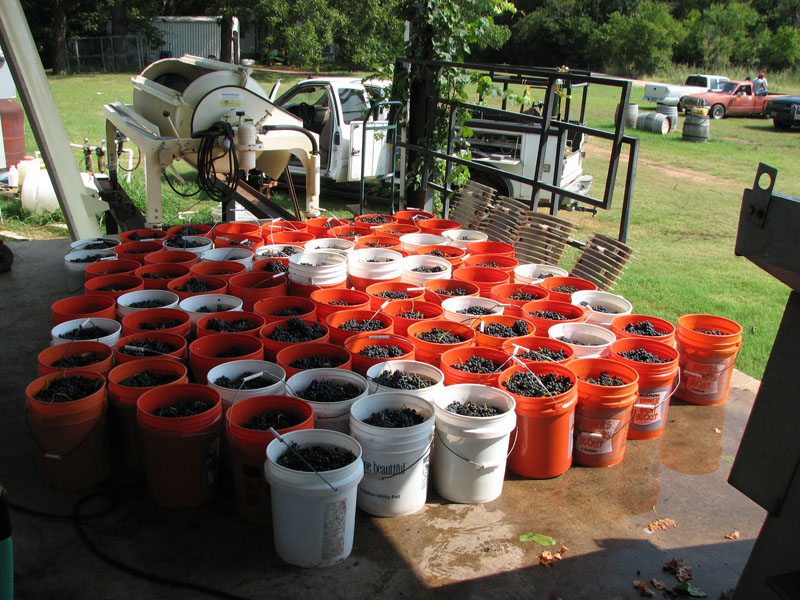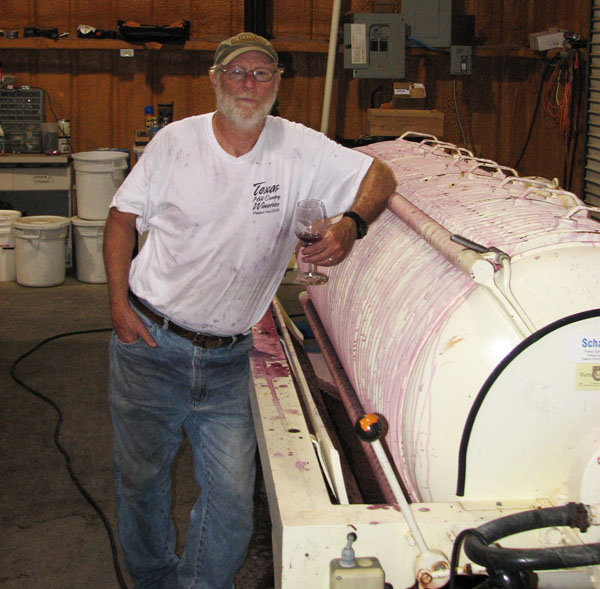 Jim Johnson, after a TPR Syrah press.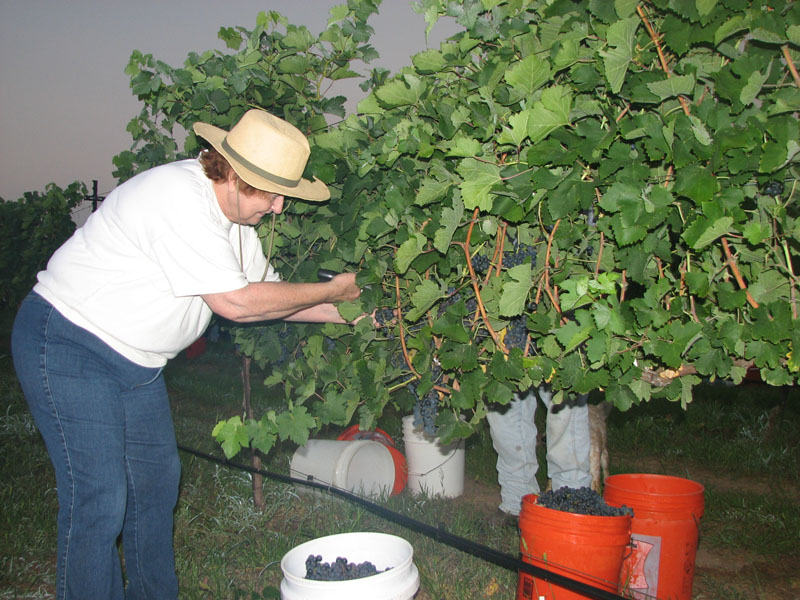 Karen Johnson, early morning, helping with the 2010 TPR Syrah harvest.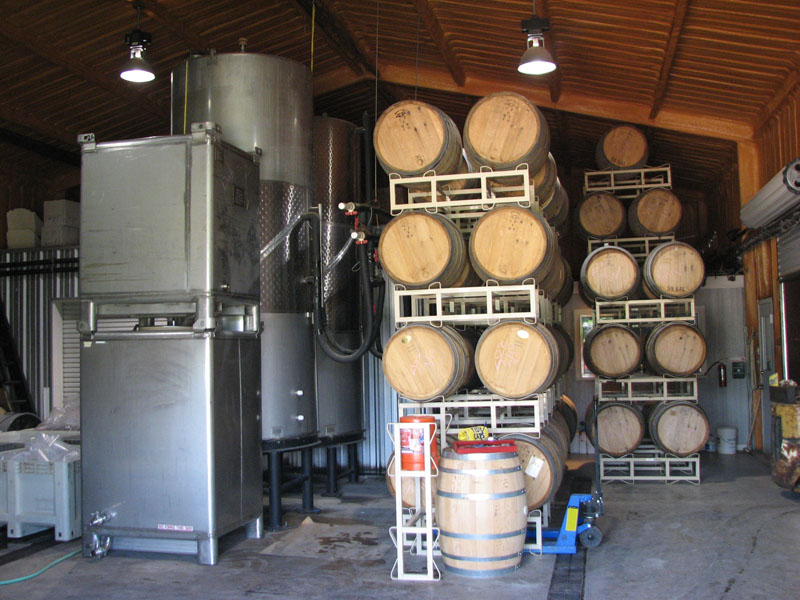 Stack em and rack em. A few of the fermentation tanks and aging barrels . . .
Past Events
August 9-13, 2010: Harvest time at Alamosa Wine Cellars.
Download slide show for the 2010 Harvest
What a week! I spent the entire week up at Alamosa Wine Cellars (AWC) helping with the 2010 harvest. The vines are full of fruit this year, thanks to a cooperating Mother Nature. After arriving Monday just before lunch I was instructed to begin "punch downs" on the recently crushed 2010 Syrah and Grenache harvest from the High Valley Vineyard (HVV) block. This process continually mixes the crushed grapes so that that fermentation process will be even within the vat. The Syrah is already showing some very nice color.
There were 3 vats of the Syrah and 2 smaller ones of the HVV Grenache, each needing punch downs at least 5 times a day while the fermentation is in process. Note the nice clean white T I'm wearing. It wasn't white for long. Within about 10 minutes I looked like I wore purple cammo. I think it's in style now. After a couple of punch downs we took a juice sample of the HVV Syrah to the lab for a Brix (sugar content) test. The numbers look right where Jim wants them. Both the Syrah (~2400 pounds) and Grenache grapes from the HVV block are specifically for the 2010 Palette, a Rhone style red blend. The Mourvedre and Cinsaut grapes, not quite ready, for the Palette will be harvested within the next few days.
Tuesday morning began with a 6:30 AM start of the 2010 Tempranillo and Grenache Tio Panco Ranch (TPR) vineyard block harvest. This is the vineyard that is directly connected to the Winery and Tasting Room. These Tempranillo vines were literally drooping under the heavy weight of some magnificent grape clusters. Many of the older vines, in the 8-10 year range, would fill multiple 5-gallon buckets from a single vine. These also had great color and flavor. As The Texas Wine Guy it's my job to, you know, occasionally sample the grapes for quality purposes. I did. The winery employed about 6 additional harvesters in order to get the harvest done by 11 AM, before the grapes and the people got too hot. After harvesting the TPR Tempranillo and Grenache, both were crushed into the same vats, as both with be used in the 2010 El Guapo. Note: after a crush the equipment cleaning process takes hours of slow, hot, tedious, labor. Once these grapes were properly placed in the vats, we moved on to the next chore - testing Brix on the TPR Graciano. A walk in the now very hot vineyard yielded enough grapes for a 500 ml juice sample. The numbers indicate that this Graciano will need to be picked within the next 3-4 days. Nearing the end of the long hot day, we prepared the grape press for the next morning's pressing of the HVV Sryah that we'd been punching down the day before.
Wednesday morning: Time to get started on the 5 punch downs of the 1.5 tons of Tempranillo we harvested yesterday. In between the punch downs we went back to the vineyard to collect samples of Tannat, Graciano, and Sangiovese. The Tannat has about a week to go, the Graciano only a couple of days, and the Sangiovese will need about 2 weeks on the vine.
Time to press the HVV Syrah. The press can hold almost a full 2 tons of crushed grapes. Jim is seen here just about to close the doors on the HVV Syrah. Note the rich color stains already on the outer left edge of the machine form the Syrah grapes we just loaded - by hand, with 5-gallon buckets! Pressing grapes is not exciting - it's 10% work and 90% patience, like everything else involved in making wines. We pressed about 250 gallons within 10 minutes. The remaining 30 gallons took an hour and half. Press, rotate fruit, press, repeat. More than once I'd look over at Jim and ask, "Is that all we're going to get from this batch?" He'd almost wink at me, smile, and say, "No, we'll squeeze out another 10 or 15 bottles worth from this."
At the end of another hot day, it was time to sample "the fruits of our labor". We pulled a glass of wine from the Stainless steel tank (to my left in this picture) now holding the Syrah. While there was still a very small amount of fermentation to be fully finished, we got a very good picture of how this Syrah would turn out. Rich, deep burgundy-ruby color with flavors plum and raspberry told us that the 2010 Palette was off to a very good start. Note that I'm so dirty and sweaty, I don't think they'd let me come through a Dairy Queen drive-through the way I looked. A good day indeed. Just before dinner, we got a few things prepped for the Thursday morning TPR Syrah harvest.
Thursday Morning: To the left is a picture of some of the 2010 TPR Syrah harvest. The grapes come in 6-8 buckets at a time from the vineyard and are loaded into the crusher once there is a good 20+ buckets ready to go. Just after this pic was taken, we were crushin'! Harvesting is a slow and laborious process, as care must be taken to not damage the grapes. Kinda funny hm? "Hey, be careful with those grapes! We're gettin' ready to crush em!"
By 11 AM we had harvested and crushed approximately 1.7 tons of this big beautiful Rhone beauty. We moved these vats aside and let the fermentation process begin. I'm looking forward to seeing this fruit used in Alamosa's 2010 Syrah and also some used in the 2010 Texacaia.
Our next job was to test Brix on the Tempranillo we harvested on Tuesday. It's down to about 3%, so these will need to be pressed and pumped in a tank on or just before the weekend. The color and flavor is looking great.
Our next job - press the 2010 HVV block Grenache that was harvested on Monday. I tasted the juice from these vats and got HUGE flavors of peach and strawberries. Remember, this Grenache will be used in the 2010 Palette. Once pressed, we pumped 155 gallons of this wine into the tank already holding the HVV Syrah so they could finish fermentation together. Wait for it - the 2010 Palette should be a very good one.
After cleaning the press, which takes longer to do than using the press, we went to Jim and Karen's house for a well needed shower and - dinner! Karen had made a Pork Loin draped with a wine reduction cherry sauce = fantastic. The night got even better when Karen suggested we open 3 yet to be released vintages of Alalmosa wines: 2008 Texacaia, 2007 Syrah, and 2005 El Guapo (Tempranillo). The new vintages were delicious. On top of all this Texas goodness, we finished the evening out on the front porch, sipping great wines in pitch black, watching a meteor shower in the clear, star-filled Texas Hill Country sky. Seriously, can it get any better than this? By 11 PM, exhausted from a long hot day, a great meal, and 3 beautiful Texas wines, I could barely keep my eyes open. When I hit the sack I wrote some notes in my daily event dairy, and thought about my wife Heather and precious daughter Emma, before closing my eyes in preparation for Friday's chores.
Friday was a short day, as I needed to start the trip home by mid morning. We finished the remainder of the TPR Syrah harvest and crush by 9 AM. After one more punch down of the Tempranillo, I got ready for my trip home.
I had blisters on several of my fingers, stickers in both of my legs, my shoulders were stove-up from hauling dozens and dozens of grape-filled buckets, I was still tired, but what a great week this has been. You know, that feeling you get when you work dog-hard, make progress, are exhausted, but feel good in the end? That was my week. I learned a LOT during this week.
Wine making is hard. Really hard. There's not a single process that moves quickly. Every step is slow, deliberate, cautious, meticulous, tedious - and hot. God must be a funny guy as he sure did make the grapes ripen right in the middle of the hottest Texas months.
Give this some thought: There are many pitfalls and potholes in the wine making business that you never hear about. There's the late frost that destroy the grape blooms, there's the occasional Texas hail storm that will just about level the entire vineyard, there's that darn heavy thunder storm dumping inches of rain, days before the harvest, that ruin the fruit's sugar and acid contents. Any one of these things can literally ruin a full year for a wine maker. The next time you're enjoying a nice bottle of Texas wine, remember that in order for that glass of wine to appear in your hand, there are years, months, weeks, days, and hours of some very hard work done by the winery employees to make it all happen. They work for a long time, slowly and cautiously performing each important step so that your glass can be filled - with a real Texas treat. They rarely see or hear someone pat them on the back and say, "You made my day. That was a great wine I had with dinner last night. My night was an event because of this wine. THANK YOU."
I hope this blog entry will shed a little light on what it takes to make a good wine. I'd like to encourage all who read this to get a bottle of Alamosa wine, breathe it, enjoy it, experience it - then send Jim and Karen a quick note via email and just say, "Thanks, I enjoyed your wines." - Email Jim & Karen
I'm The Texas Wine Guy. God Bless Texas.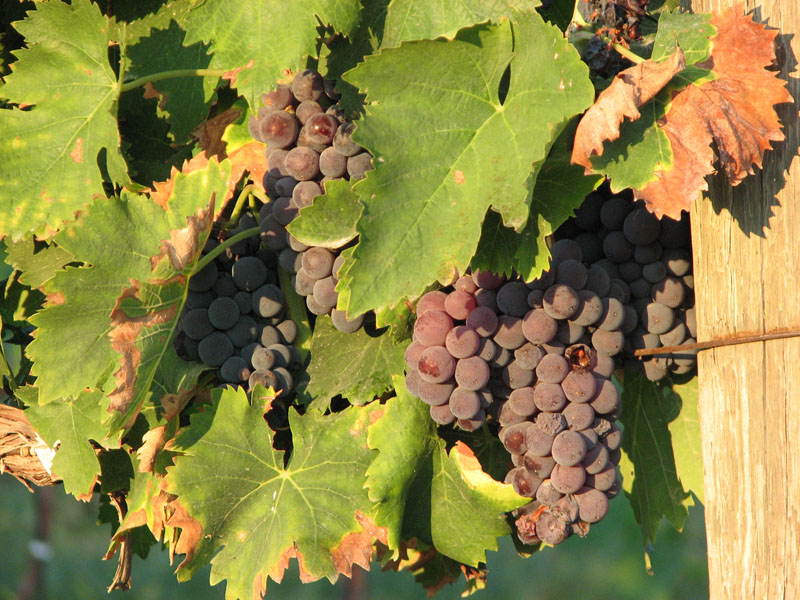 2010 TPR Sangiovese, to be harvested in about 2 weeks . . .